Adjustable collar - Our custom American-made buckle is the strongest in the industry.
Martingale collar - Limited-choker action helps prevent 'backing out'.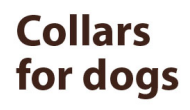 A collar is one of the essential pieces of gear for all dogs. We make two types: the Adjustable collar, sometimes called a 'flat' collar, with no mechanical action, and the Martingale collar which goes on over the head and has a limited amount of tightening when there is tension on the leash.
(Slide 9 of 18)