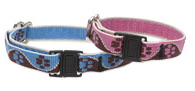 Get a free sample whelping collar and our current catalog when you apply to our Breeder Program!
Close
Puppies have a special place in our heart and so do the many responsible people who devote their time and energy to developing healthy, happy dogs.

Our Program is designed to provide access to our product line so that Whelping collars and "puppy pack" items may be purchased, as well as items for adult dogs.
If you are interested in applying for a program account, please fill out an application online, or give us a call.

We look forward to working with you!