Whelping Collars by Lupine®
We've created a sturdy yet safe collar to ID your pups! It features a flat center-push buckle, low-profile metal adjustment piece and no D-ring.

Two sizes- 5"-7" and 7"-12"

Three types of 1/2" wide material to choose from:
Soft - For newborns or 'toddlers'. Woven nylon in six colors. 1 doz. per bag (two of each color).
Standard - Best for 'toddlers'. Jacquard woven nylon stands up to rough-housing! In assorted 1/2" patterns. 1 doz. per bag (one each of 12 patterns).
Due to the nature of whelping collars and how they are used, they are not covered under our 'Even-if-Chewed' Guarantee.
Get items for your 'Puppy Packs'
Order collar & lead sets to send home with your puppies or outfit your own dogs with attractive, durable Lupine products. We have flat collars, martingale-style collars, slip-leads and more!

If you are interested in applying for a program account, please fill out an application online, or give us a call. We look forward to working with you!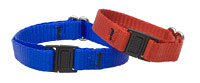 Soft Whelping collars
for newborns or 'toddlers'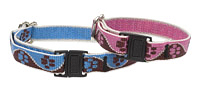 Standard Whelping collars
best for 'toddlers'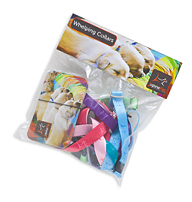 Bag of 12 collars